SNOW PARKING BAN FEBRUARY 2, 2022 THROUGH FEBRUARY 4, 2022
February 2, 2022
/
Last Updated February 2, 2022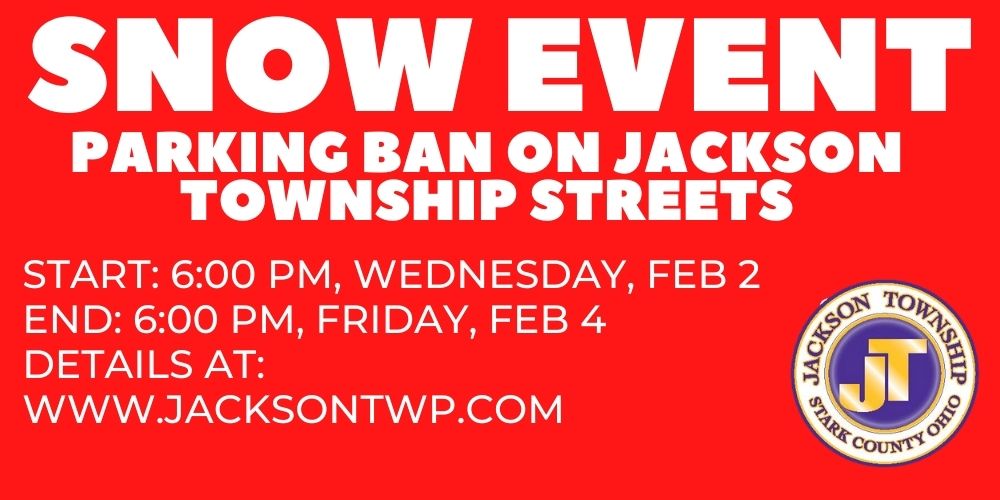 IMMEDIATE RELEASE: February 2, 2022 AT 8:30 A.M.
DUE TO EXPECTED SNOW AND ICE ACCUMULATION OF TWO INCHES OR MORE, THE JACKSON TOWNSHIP BOARD OF TRUSTEES HAS ISSUED A SNOW EMERGENCY PROHIBITING PARKING ON JACKSON TOWNSHIP STREETS EFFECTIVE AT 6:00 PM WEDNESDAY, FEBRUARY 2, 2022.  THE SNOW EMERGENCY PARKING BAN WILL REMAIN IN EFFECT UNTIL 6:00 PM, FRIDAY, FEBRUARY 4, 2022.  FOR FURTHER INFORMATION, PLEASE CALL 330-832-4016 DURING REGULAR BUSINESS HOURS.
BASED ON THE TRACK OF THE STORM AN EXTENSION OF THE PARKING BAN ON TOWNSHIP ROADS IS A POSSIBLITY.  PLEASE CONTINUE TO MONITOR THIS WEDSITE.