5735 Wales Ave NW
Jackson Township, Ohio 44646
Telephone: 330-832-7416
Fax: 330-832-5936
Office Hours
M-F: 8:00am - 4:30pm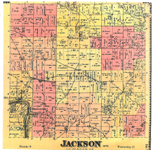 Jackson Township became part of the United States Territory in 1785 by a treaty with the Indians.  The Tuscarawas River, which runs through Jackson Township, was the western boundary of the United States.  A stone marker on Erie Avenue still marks the spot.  The west side of the Indian territory was inhabited by the Wyandot, Delaware, Ottawa and Chippewa.  In 1804, by act of the Ohio Legislature, land inhabited by 80 electors in a six mile square tract could apply to be set off as a township and elect three trustees and clerk to govern.
Jackson Township was separated from Plain Township in 1815.  The boundaries are Whipple Avenue on the east and Mt. Pleasant Road on the north, old Route 21 on the west and 18th Street on the south.  The first log schoolhouse was built in 1816 at the center of the township.  The first log church was constructed in 1824, known as Mudbrook Church, which is today St. Jacob's Lutheran Church.  In 1827 the Ohio Canal operated through western Jackson Township to Cleveland and in 1830 reached the Ohio River.  A grain mill is still in operation and is run by water.
By the late 1800's and early 1900's, Jackson Township was a prosperous community, a leader in coal mining and farm products.  Roads had been built and seven one-room schools were in operation throughout the township.  Fire Station #1 at West Blvd. was constructed in 1952 and the township formed its own police department in 1977.
Statistical data from the 2010 census records show Jackson Township has grown to a community of 40,373 residents and 16,771 households.