Telephone: 330-832-2845
Rentals: 330-832-7416
All Park Hours - Dawn to Dusk
This beautiful seventy-acre complex located at 7660 Fulton Rd. NW across from Jackson High School, features a picnic pavilion, restrooms, fully- accessible playground, twelve athletic fields used for baseball, softball, soccer and lacrosse, a multi-use track used for skating and bicycling on the amphitheater side of Community Parkway, ten tennis courts, four basketball courts, eight pickleball court and two sand volleyball courts. 
North Park has 8 Pickleball Courts available for both open play and reservations.  All 8 courts are open to the public, however Courts #1-#4 are available for reservation requests while Courts #5-#8 are open to the public as much as possible pending specific township programming.  All 8 courts are at a first come, first served basis with the understanding of everyone abiding by the pickleball rules posted by the courts on site.
Pets are prohibited at the North Park.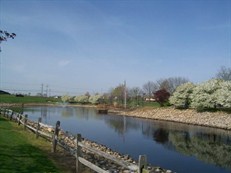 There is also a stocked, 1½ acre fishing pond with a boardwalk and gazebo.
For your walking pleasure, there is a 1.1 mile paved walking track.  The walking track is marked with hash marks at every one tenth of a mile through out North Park. 
North Park Hours:
Spring and summer hours - 6:00 a.m. to 10:00 p.m. - March 1 - November 30
Winter hours - sunrise to 8:00 p.m. - December 1 - February 28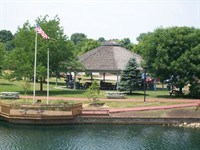 There are picnic tables (seats maximum150 people) and three charcoal grills at the David Ruwadi North Park pavilion.  It is 100 yards from the restrooms and playground.  An application is required to reserve the North Park pavilion. The Jackson Township Public Works Department will issue all use permits to organizations and individuals.
Township Residents and Non-Profit Organizations - No Charge.
Non-Residents, For-Profit Organizations and Companies - $10.00 per hour.
The Jackson Township Parks & Recreation Department hosts many special events such as:
Community Celebration

Summer Concerts

Easter Egg Hunt

Creative Movement

Haunted Hayride

Holiday in the Park

Fishing Day