Effective April 7, 2023
Hours:
Monday - 8 am - 8 pm
Tuesday - 3 pm - 8 pm
Wednesday - 3 pm - 8 pm
Thursday - 8 am - 8 pm
Friday - 8 am - 8 pm
Saturday - 8 am - 8 pm
Sunday - 8 am - 8 pm
5735 Wales Ave NW
Jackson Township, Ohio 44646
Telephone: 330-832-4016
Fax: 330-832-5936
Office Hours
M-F: 8:00am - 4:30pm
Yard Debris Waste Drop-Off Site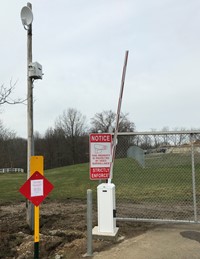 Who May Use the Site: The yard debris waste drop-off site is for Jackson Township residents only. Commercial contractors or non-residents are prohibited from using the site.  The same rules and regulations remain in effect as adopted by the Board of Trustees on April 24, 2018 (see Resolution 18-071).  The site will be monitored for compliance with the rules and regulations. Residents should be prepared to provide proof of residency upon entering the site (e.g. driver's license or other acceptable proof) if asked.
How to Access Site: The site requires a key card issued by the Township for entry. Only one key card per residential household in the unincorporated area of the Township will be issued. In order to obtain a key card, residents may register online by clicking on the link below and following the onscreen prompts. A credit card and email address is required to complete registration successfully.  The Board of Trustees have established a nominal annual fee of $10.00.
Rules: The Board of Trustees have instituted the following rules in regard to the use of the site:
No commercial lawn and/or commercial tree service may use the site.

No tree or plant branches larger than two (2") inches in diameter, and longer than four (4') feet.

No cut trees

No logs

No stumps

No construction materials, no treated wood

No dirt, no stones
When using the site, be prepared for your debris to be inspected for rule compliance and to show proof of residency. Enforcement of the aforementioned rules is key to the sustainability of the site.
Registration:  
Online:  You may register online here at our website by clicking on the first time link below.  A credit card and email address is required to complete registration successfully.  
In-person:  Residents who do not have access to a computer, may come into the office and apply in-person.  This service is available between 8:30 am and 4:00 pm, Monday through Friday.  Paperwork will need to be filled out with all your pertinent information for registration.   You may pay by cash, check or charge.
Card Pickup:  Once you have successfully registered, key cards will have to be picked up in person at the Jackson Township Administration Building between 8:30 a.m. and 4 p.m., Monday through Friday. 
RENEWAL: 
PLEASE NOTE:  The original yard waste card issued at registration will continue to be the card you will utilize.  A new card will not be issued for renewal.
If you already have a key card, please note the expiration date of your card. If you registered on-line using your credit card and that credit card is still active, it will automatically renew on that date. NO FURTHER ACTION IS REQUIRED. If your credit card information has changed, please call (330) 832-7416 to update this information. Do not register online again, as this creates a duplicate record in our system. 
If you registered in-person at Township Hall and paid by CASH or CHECK, you will need to come in to renew your card either on or before your expiration date. You may also upgrade to credit card payments by calling in and giving your credit card information over the phone for payment.
Replacement Cards:
Only one key card will be issued per address.  In the case of a misplaced key card, there will be a $10 replacement fee for a new card.    Residents must come into the office to have the new card issued.  Once again, please do not reapply online.  
PLEASE NOTE:  The $10 replacement fee will be in addition to the annual renewal fee.