7383 Fulton Drive NW
Jackson Township, Ohio 44646
Telephone: 330-834-3950
Fax: 330-834-3958
Emergency Dispatch: 911
Safety Center Office Hours
M-F: 8:00am - 4:30pm
Sat-Sun: CLOSED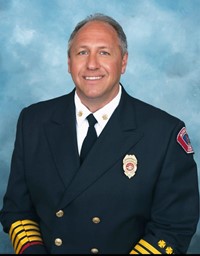 I have been studying the fire service for over 30-years.  After spending eight years serving in the US Air Force as a crash fire protection specialist, I returned home and was fortunate to be hired as a career member with the Jackson Township Fire Department.  Prior to being selected as the Fire Chief, my role within the organization was the Deputy Chief of Staff. In that role I oversaw all Fire Prevention activities including code enforcement, public education, new commercial building plans review, and fire investigations.  In addition, I oversaw all Fire and EMS related training for our members, prepared and maintained the Fire Department's budget, supervised the in-house EMS billing personnel, as well as handled all internal and external compliance issues.
Along with numerous Fire and EMS certifications, I have an Associate's Degree in Fire Science, a Bachelor's Degree in Fire Administration, and completed both the Ohio Fire Executive (OFE) and the Fire Chief's Accreditation programs.  I have been instructing new Firefighters since 2000 and became involved in officer development in 2006, both locally and through the Ohio Fire Academy (OFA) in Columbus.
As Jackson School Alumni, my wife has put up with me since 8th grade; we were married within a year after graduating high school.  Our two grown children are married to awesome spouses.  Thus far, they have blessed us with three wonderful grandchildren (best part of having kids of our own).  We spend as much time as possible with all of them.