7383 Fulton Drive NW
Jackson Township, Ohio 44646
Telephone: 330-834-3950
Fax: 330-834-3958
Emergency Dispatch: 911
Safety Center Office Hours
M-F: 8:00am - 4:30pm
Sat-Sun: CLOSED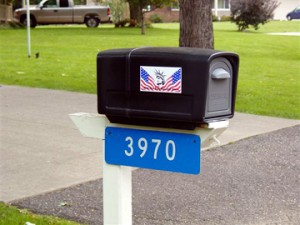 Nothing is more important to a firefighter or police officer responding to an emergency call than to locate the people who need help quickly. Having your house number clearly displayed will help safety officers find you as fast as possible. We encourage you to purchase one of our address signs made of blue reflective metal background with large white reflective numbers.  These reflective address signs can be seen from great distances day or night, and are the easiest house numbers for emergency crews to spot.
Signs are $15.00 if picked up at JTFD Station 2, located at 8500 Traphagen Street NW, near Amherst Avenue.
Signs are $20.00 shipped to anywhere in the continental United States.
Acceptable forms of payment are check (no cash please) or debit/credit card via PayPal.
To purchase a house number sign, click here to be directed to the Jackson Township Professional Firefighters website.