7383 Fulton Drive NW
Massillon, Ohio 44646
Telephone: 330-834-3950
Fax: 330-834-3958
Emergency Dispatch: 911
Safety Center Office Hours
M-F: 8:00am - 4:30pm
Sat-Sun: CLOSED
The Training Division is under the supervision of Captain Gary Martin. 
Jackson Township firefighters constantly train to keep their skills sharp
and ready to use when called upon.  All of our full-time firefighters are also paramedics, so many hours of classroom and hands on training take up a large part of a firefighter's career.
Our firefighters are continuously training to achieve the excellence that is required in this dangerous and demanding career.
Jackson Firefighters are train on Search & Rescue techniques.  Crews are tasked with searching and locating the victim and removing him from the building.  They also practice using the Thermal Imaging Camera.  This camera uses heat sensors to locate fire, victims and other heated objects.
Each year, crews are required to do EVOC (Emergency Vehicle Operations Course) Training.  This training enhances their maneuverability and backing skills.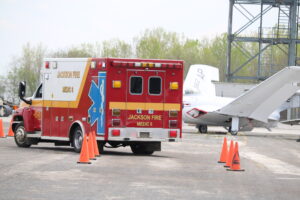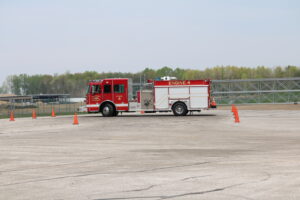 Auto Extrication training is a must for the members of the Jackson Township Fire Department. The fire department responds to multiple accidents every month. Working with the local tow companies, members are able to recreate extrication scenarios and train on the proper techniques needed in order to stabilize, disentangle, package, and remove injured persons. Proper performance provides safety for both the patients, as well as the rescuers. The goal for the fire department is to treat and transport all patients within the 'Golden Hour' of any accident.  The members of our department have become very proficient in these techniques.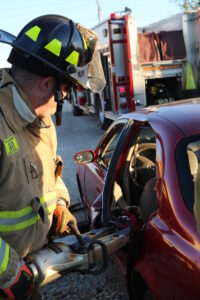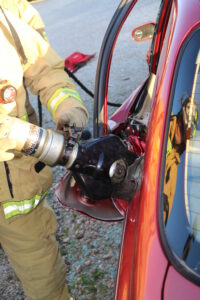 Jackson firefighters are train on "Large Area Search" procedures.  It includes working off of ropes for orientation, and searching in grid patterns.  These procedures are used in buildings with large rooms, open spaces and warehouses.  In drills, these firefighters work without sight to duplicate a smoke filled building.
Rope rescue is the foundation of all other disciplines in the rescue world such as water, trench, and structural collapse.  A select group of Jackson Fire Department Members have been trained in this discipline, (based on the NFPA 1006 standard).  These members continually train in lowering, hauling, and patient packaging techniques.  Working with the water company, training is conducted utilizing one of the many water towers located within the township.  As with all trainings, Incident Command, along with safety are the issues stressed to all members.   
Jackson Firefighters training on Hazardous Materials Decontamination with instructors from Cleveland State University.  The continuing education training involves class room work and hands-on exercises that were held at the Safety Center.